Home > Events and Seminars > 2008 > SPIE Lithography Asia
SPIE Lithography Asia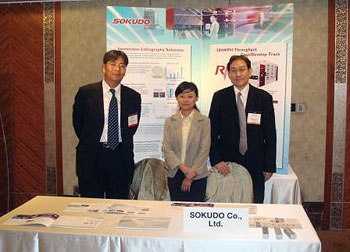 Exhibition:
SOKUDO Co., Ltd. showcased photolithography coat/develop track RF3T and SOKUDO immersion solutions for volume production. Dainippon Screen Electronics Taiwan (DSET) representatives Hisashi Takamatsu, Kay Lin, and Keisuke "Kevin" Takimoto met visitors to the SOKUDO booth.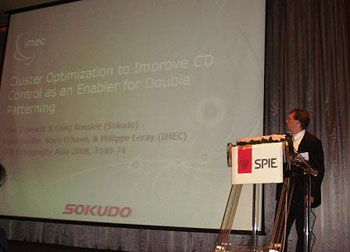 Technical Conference:
SOKUDO Co., Ltd. presented oral presentation paper 7140-74 within Session 15, Optical (DPT Process) entitled:
Cluster optimization to improve total CD control as an enabler for double patterning
David Laidler, Philippe Foubert, IMEC (Belgium); Craig Rosslee, Len Tedeschi, SOKUDO USA, LLC (United States)
Abstract: Given the increasingly stringent CD requirements for double patterning at the 32nm node and beyond the question arises as to how best to correct for CD non-uniformity at litho and etch. For example, is it best to apply a dose correction over the wafer while keeping the PEB plate as uniform as possible, or should the dose be kept constant and PEB plate tuning used to correct. In this paper we presented experimental data, obtained on an ASML XT:1900Gi and Sokudo RF3S immersion lithography cluster, on both of these approaches as well as on a combined approach utilizing both PEB tuning and dose correction.